Vehicle Inspection Report™
Reports with quality grading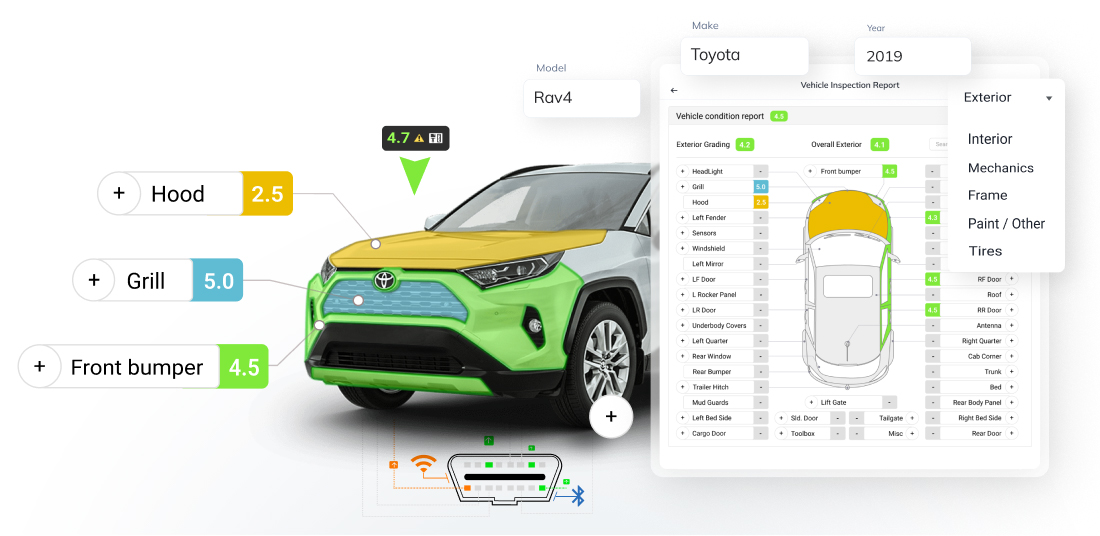 Our software is designed to work on a number of different platforms and devices, some of which utilize built in 2d or 3d barcode scanners or can be externally connected via Bluetooth.
Our Vehicle Inspection Report™ (VIR™ app) is an accurate and reliable online inspection of the vehicle based on the following parameters: exterior, interior, mechanics, tires, paint/other, frame, and OBD.
The VIR™ enables auctions to provide high quality vehicle inspection reports (with grading) both on and off-site using an intuitive user interface that improves efficiency and reduces labor costs.
Features of VIR™
Choose a category: (as is, as described, front line ready, NIADA certified program or OEM-CPO eligible).
Admin dashboard that allows users the ability to manage all the inventory.
User access control limits, puts you in control of who can view, update and assign a VIR™.
Choose start time/end time.
Ability to attach photos to specific damaged areas.
VIN decode either via 2D or 3D barcode scanner.
On the fly or bulk image upload capability.
Choose physical location of the vehicle.
The level of detail our VIR™ provides is not available with any other system on the market today.
Enter vehicle details and recovery information.
Enter pricing information (starting bid, floor price, bid increment, buy now price).
Manually add or edit vehicle options.
Patent pending GUI interface that reduces the time to upload a comprehensive vehicle inspection to all three auctions under 20 min per vehicle average (Live on OVE, Adesa and SmartAuction).