CLOUD AUCTION MANAGEMENT SYSTEM
AUTO AUCTION SOLUTIONS
FEATURE RICH STABLE PLATFORM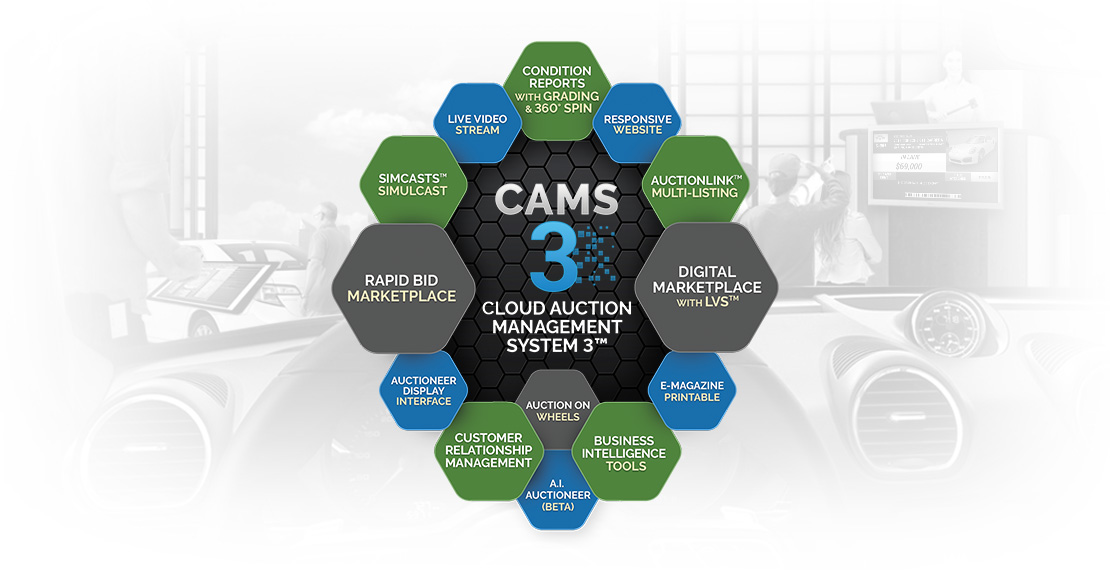 Auction Streaming has made tremendous progress with the Cloud Auction Management System 3™ (CAMS 3™). Now we are excited to announce being the first AMS provider to have a fully functional and independent online Cloud Auction Management System called CAMS 3™.
We are providing auto auctions with a complete and comprehensive suite of essential products and services critical to the wholesale space.
Cloud Services

ONLINE BUSINESS INTELLIGENCE

An industry first: cloud-based auction management means transparency and data-mining across all your rooftops from a single dashboard. Auction Streaming brings reality to features like Cross Auction Dealer Registration.

Software as a Service

UNIFIED SOFTWARE DISTRIBUTION

Auction Streaming maintains identical databases and software releases in a unified code-base among all clients. Multi-auction headquarters eliminate conflicts in features and reporting with Auction Streaming's Software as a service.

Mission Critical Enterprise Software

THE MOST IMPORTANT DAY OF THE WEEK

On the sale day, failure online, in the office or in the lane is not an option. That's why the business logic of Auction Streaming will never cause a 'record lock' . On any day of the week.

Third Party Interfaces

CONNECTIVITY AND BEYOND

Auction Streaming can act as your front-end to Auto Ims or take data feeds directly from your client's Dealer Management System ( DMS ), not to mention everything in between.

Ease of Use

INTUITIVE AND USER-FRIENDLY

Point-and-Click screen navigation lets even part-time employees become proficient in record time. Held hostage to complex function-key navigation or personnel bottlenecks? Auction Streaming saves time and money with its ease of Use.

Unmatched Support

A CLAIM NO OTHERS CAN MAKE

Over 100 developers, engineers and architects are standing by to turn your ideas and needs into reality. Our deep bench of developers along with free 24 x 7 customer support make Auction Streaming the superior choice.

Turn Key Solution

MULTIPLE PRODUCTS AND ONE PHONE CALL

No other company offers the depth and breadth of integrated wholesale products from one company. Auction Streaming offers a suite of turn-key products at prices equal to or less than other single stand-alone products.

Document Control

PRINTING, EXPORTS AND SOFT COPY

The document Control feature provides customized management : formatting, printing, importing, exporting and electronic delivery. Auction Streaming saves time and money.

Modern Tools and Devices

ANDROID, IOS AND WINDOWS

Militarized, rugged, commercial or simply customer grade; Auction Streaming supports every wired and wireless option imaginable. For lot management, vehicle registration, condition reporting, or on-boarding inventory at the dealer lot, Auction streaming allows you to 'REACH BEYOND THE GATES'.