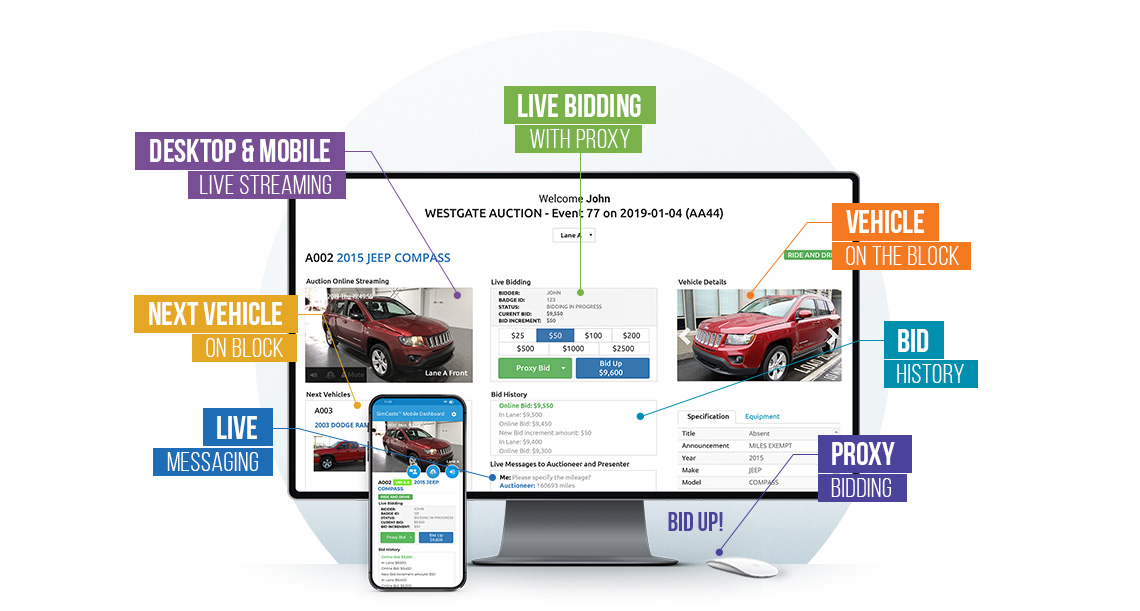 Live Streaming for Car Dealerships & Auctions
SimcastsTM
Simulcast
Now you can have it all "Pre Sale, In-Lane or Post Sale" with Simcasts™. The SimCasts™ mobile application allows auctions a live stream during the live sale In-Lane . The SimCasts™ app gives the subscriber a realistic feeling of being present next to the car. The online bidder can navigate with the mobile camera live stream to zoom in on a particular part of the vehicle, providing a live inspection that goes above and beyond any fixed camera footage.
The benefits for auctions:
Multiple Streams.

A subscribed dealer can view multiple presentations at a time. One vehicle can be shown in detail for several different auctions.

Multiple Vehicles.

A dealer can watch a few different vehicle streams simultaneously.

Bidding Ability.

A subscribed dealer has the possibility to make bids during the stream.

No Additional Software.

A dealer doesn't need any additional tools, modules or plugins to watch the vehicle stream. All the dealer needs to do is launch their browser, open the inventory page and select a vehicle to view.

Text Chatting.

Dealer can interact with auctions by sending their comments or questions during the video session.

Streaming On Demand.

A dealer can subscribe for the SimCasts™ streaming and view the vehicle at any time.
Simulcast SimCasts™ In-Lane
Simcasts™ Auction Simulcast Demo
Simulcast SimCasts™ App Demo
Simcasts™ App on Digital Marketplace