DIGITAL MARKETPLACE
EVERY MODULE IN ONE SOLUTION
Reach beyond the gates and sell cars every day, not only on a sale day. The Local Marketplace platform offers auctions the opportunity to market and sell online any day of the week; directly from physical inventory of the auction or from virtual inventory on your dealer's lot.
The Local Marketplace is integrated with our AuctionLink™ connecting your auction directly with the Dealership Management System (DMS) for seamless uploads of vehicle information and photos.
Complete Bidding Platform
We offer you a complete bidding platform which covers all auction scenarios. If your customers don't want to wait till the end of the auction but want to purchase a vehicle at that very moment when they see one, they can use our "Buy Now" feature. With the help of "Make Offer" a customer has a possibility to submit his/her own price for a vehicle which only the auction can accept or reject. "Reserve Price" feature lets a seller to agree to trade the vehicle for the reserved price, but not earlier than the end of the auction.
Give your customers a possibility to make bid increments in a real-time format with "Live Bidding" or set up "Proxy Bidding", a process of multiple bids and outbids at the end of which the auction winner buys a vehicle at the lower price than he/she was ready to pay.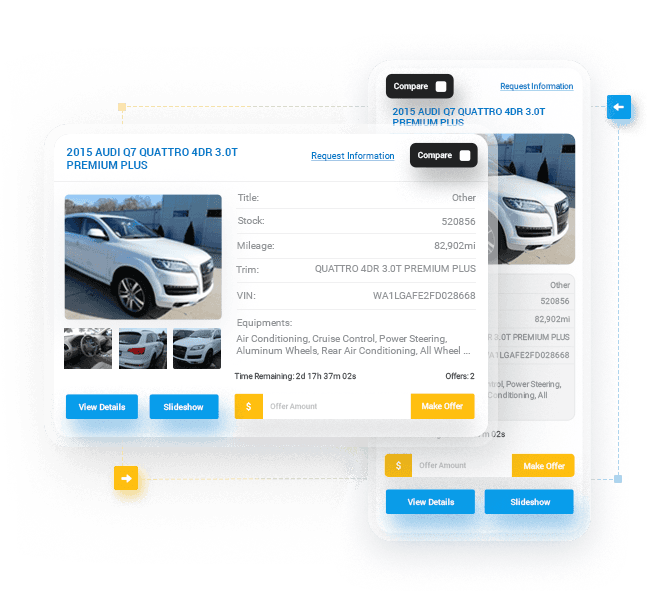 Smartphone platforms
You can turn on countdown timer (optional extended timer) that shows the time left before the end of the auction. Set up buy/sell email notifications to your customers' mobile devices. Auction Marketplace is compatible with all known devices, all major smartphone platforms and OS, including Android, Apple and Windows.
Marketplace bidding platform features:
Buy Now
Make Offer
Reserve Price
Live Bidding
Responsive Website
SimCasts TM Mobile
LVS TM Live Video Streaming
Bidding History
Proxy Bidding
Countdown Timer
Extended Timer
Buyer Registration
Buyer Spending Limits
Buy / Sell Email Notifications
Vehicle Video
Integrated Vehicle History Reports (Carfax, AutoCheck, CarProof)