Latest News
Weather the Storm With Auction Streaming Auto Auction Software
Mar 26, 2020 - 03:59:03 am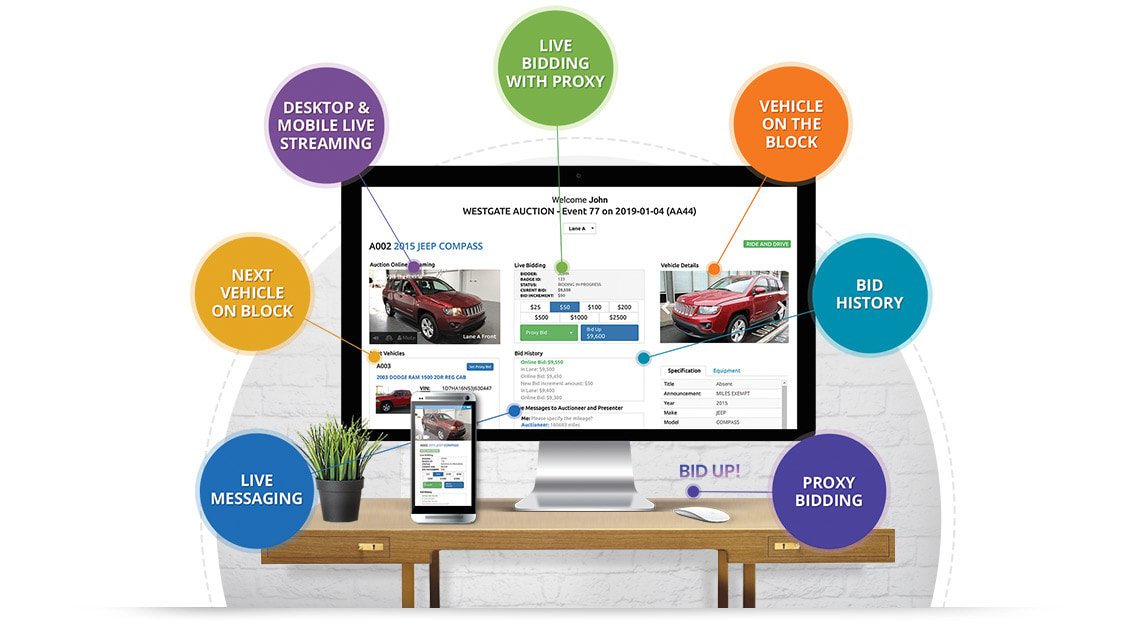 To help with COVID-19 social distancing measures, the US auction centers are being closed countrywide and neither buyers nor sellers are permitted to physically participate in the bidding process.
Auto auctions are hardly deemed essential and will be most likely forcefully closed in the nearest future. Such a course of action is mandatory to keep both auction customers and employees healthy and safe.
The good news is, the industry isn't going anywhere and many people will still need to buy cars. The largest US automakers — General Motors, Ford Motor, and Fiat Chrysler — have already decided to temporarily close their North American Factories. Later, they were followed by Toyota, Honda, and Nissan. The postponed production of new vehicles will probably translate into the huge demand for used ones.
Today many auto auction owners are left guessing about what to do next. How can the remarketing industry weather this storm and still be able to meet the needs of its customers safely?
Go Online-Only
Online auto auction software is the only way to ensure the health and well-being of your staff and your customers but remain open in times when everything is closed. At Auction Streaming, we have already made it possible for a vast number of auctions to successfully switch to online-only format and conduct sales without any physical customer attendance via our Simcasts™ Simulcast platform.
Simcasts™ Simulcast is our proprietary online auto auction software that allows online participants to bid and buy from any device and any location in the world providing them with full access to your auction stock when they need it.
The platform uses live video and audio feeds as well as user-friendly buyer/seller screens to show your auction hall(s) and vehicles as they get through the lanes. This way the entire auction can be run by only three people: a driver, an auctioneer, and a clerk.
With the addition of our game-changing A.I. Auctioneer (currently in Beta) that behaves much like the human auctioneer but never tires out or loses its focus, the need for the costly auctioneer or ringman services will be completely eliminated.
Another module that will be of great help in the current circumstances is our Auctioneer Display Interface or ADI auto auction software. This feature allows your auctioneer to use the front-facing camera on a tablet to interact with online bidders as if they were "In Lane" while retaining access to all mission-critical information such as vehicle details, current bid, and bid history. With ADI the auctioneer is not bound to their podium and can move freely demonstrating the vehicles that are being auctioned. Such a feature can remove the need for hiring drivers since every vehicle can be showcased from any angle on demand.
At Auction Streaming, we understand the severity of the situation and are taking all of the measures that it calls for. At the same time, we study the market and the data we receive tell us that people still want to buy a vehicle as many have planned on doing so right before the crisis began.
Today, there is a visible shortage in independent auto auctions that allow buying online. Many are either reluctant to implementing online auction software or lack the guidance needed to make the transition in a cost-effective way.
Please contact us to discuss what are the next steps to be taken by your auction to keep generating profits and deliver the safest customer experience. We will help you to analyze the market condition in your area and come up with a transition plan as well as a list of tools and resources that you will need to keep your business running in this trying time.