Latest News
Auction Streaming Introduced Cloud Auction Management System™
Oct 10, 2018 - 08:16:43 am
Auction Streaming Introduced Cloud Auction Management System™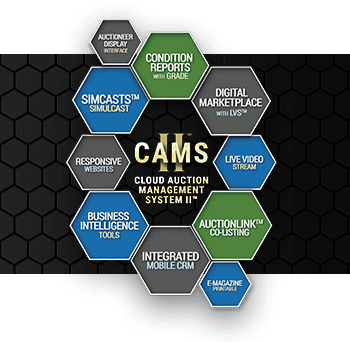 Auction Streaming (a subsidiary of Webxloo LLC) is a pioneering auto auction software provider that was created to solve the deficiencies and limitation facing the Brick & Mortar Auto Auction and Wholesale Vehicle Exchange platforms. Auction Streaming is the only Cloud Based Auction Management system in globally that has successfully unified the wholesale and retail into a complete automotive vertical.
The company has 25 years of combined experience in retail and wholesale automotive sector with over 130+ professionals building the most comprehensive solutions in the market today.
As such, the company has introduced a fully functional and innovative online Cloud Auction Management System called CAMS II™.
CAMS II™ is a fully integrated suite of modules engineered exclusively for the Automotive Auction & Wholesale industry comprised of:
AuctionLink™ Multi-Posting
Digital MPS Marketplace
CRM (Workflow & Escalation Tools)
Auction Responsive Websites
Business Intelligence Tools
E-Magazine™ Digital & Print Magazine
SimСasts™ Mobile Dashboard
Dealer Mobile Apps
"Regardless if your auction is 2 or 20 lanes, Auction Streaming has successfully consolidated the disjointed services offered by other providers into one seamless unified process, reducing overhead, increasing efficiencies and ROI by a measured 15%.
With realistic benchmarking techniques and monitoring tools we provide TLS 1.2 & SOC-II TYPE-II security protocol complying with and exceeding the ISO 27001, assuring our auctions clients full data protection of their assets and customer information.
Change is difficult and at times unpredictable. We have done the heavy lifting for you and removed all points of failure and elements of surprise. Just implement and start seeing the result to selling more vehicles online and outside the gate.
Expect more from your providers, retain more customers and see immediate cost savings with higher ROI from day one, when utilizing the full suite of CAMS-II™ modules," explained David Vahman, CEO of Webxloo LLC.
About Auction Streaming
AuctionStreaming.com is focused on advancing auto auction management solutions. It combines physical vehicle auctioning with online auctioning using live video and audio streaming.
Auction Streaming was awarded the best innovation company of 2018 by technology forecasters and recently showcased at the NAAA & UCW 2018 Expo in Phoenix, AZ.
With over 21 patents, trademarks and copyrights and an unbreakable system architecture, Auction Streaming is the only system bridged the gap between the wholesale and retail markets through its proprietary API and workflow engine.